Hazardous Chemical Safety Management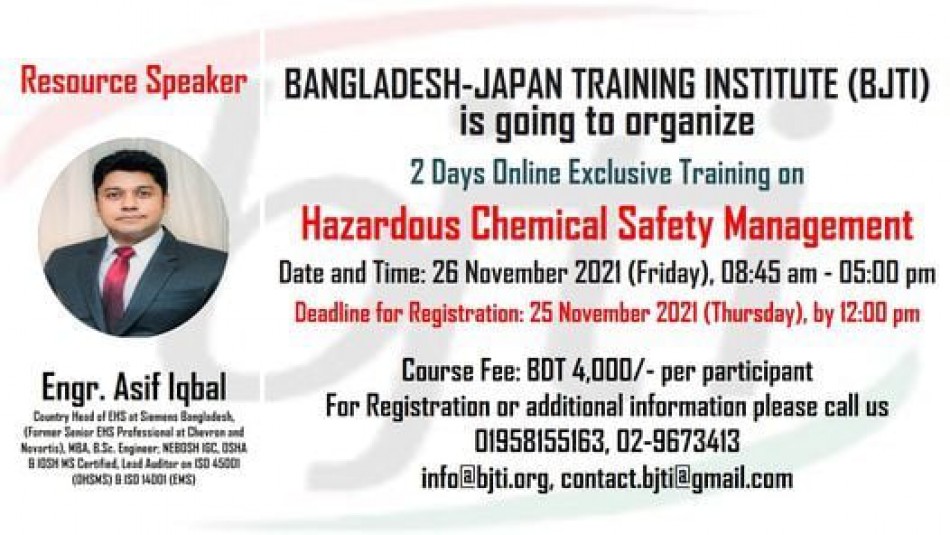 Hazardous Chemical Safety Management
BANGLADESH-JAPAN TRAINING INSTITUTE (BJTI) is going to organize a Day Long Exclusive Training on "Hazardous Chemical Safety Management"
#Resource #Person:
Engr. Asif Iqbal, Country Head of EHS at Siemens Bangladesh, (Former Senior EHS Professional at Chevron and Novartis), MBA, B.Sc. Engineer; NEBOSH IGC, OSHA & IOSH MS Certified, Lead Auditor on ISO 45001 (OHSMS) & ISO 14001 (EMS)
Hazardous Chemical Safety Management
#Training #Objective:
After this training, participants will be able to learn the following:
Proper procedures of safe handling, use, storage and disposal of hazardous chemicals at workplaces
Hazardous properties of various chemicals commonly used at industries in Bangladesh.
How HAZCOM procedures, MSDS as well as GHS signs and labeling are used to identify and communicate chemical hazards.
How to minimize or prevent personal injury/illness, liability and property damage associated with hazardous chemicals.
Appropriate measures to control the risk of handling, storing and disposal of hazardous materials, especially at laboratories and warehouses.
How to maintain labels appropriately so that employees can identify hazards and protect themselves in their work area.
How to respond in case of emergency caused by unwanted exposure or spill of hazardous chemicals
Best possible ways to safely manage and dispose wastes generated from hazardous chemicals, thereby protect environment and comply with regulations.
#Training #Contents:
Chemical Hazards – Physical and Health
Categories of Hazardous Chemicals
Identifying Hazardous Chemicals at Workplace
Hazard Communication (HAZCOM)
5 Key Elements of HAZCOM
Globally Harmonized System (GHS) & Chemical Labeling
Material Safety Data Sheet (MSDS) and its Significance
Exposure to Hazardous Chemicals – Risks and Control Measures
Safe Practices for Storage and Handling of Hazardous Chemicals
Chemical Laboratory Safety Practices and Procedures
Hazardous Chemical Waste Management and Environmental Stewardship
#Methodology:
PowerPoint Presentation, Video Clips, Group Discussion, Exercises, Question & Answer session.
#Who will be #benefited?
Factory Managers, Quality Control Officers, Health & Safety Managers, Chemists, Warehouse Officers, Compliance Managers, Engineers.
#Language: English and Bengali
#Date and #Time: 26 November 2021 (Friday), 08:45 am – 05:00 pm
#Deadline for #Registration: 25 November 2021 (Thursday), by 12:00 pm
Certificate of attendance will be provided
#Course #Fee: BDT 4,000/- per participant (excluding VAT) payable in advance in favour of "Bangladesh Japan Training Institute" in the form of crossed cheque or pay order or direct deposit to " to Dutch Bangla Bank Ltd, Elephant Road Branch, Dhaka, Account Number: 1261100033403.
Or, via Bkash Pay (01780-364200) (you must pay an additional amount of BDT 80 Bkash cash out fee).
Members of BJTI, BAAS and organizations nominating five or more delegates will enjoy 10% discount on course fee. The fee will cover tuition, stationery, reproduction of training material, training aids/equipment, cost of venue, food & refreshment, certificate etc.
#Note: Seats are limited and will be filled-in on first come first serve basis. Please find the attached file for Registration Form.