Career Fest-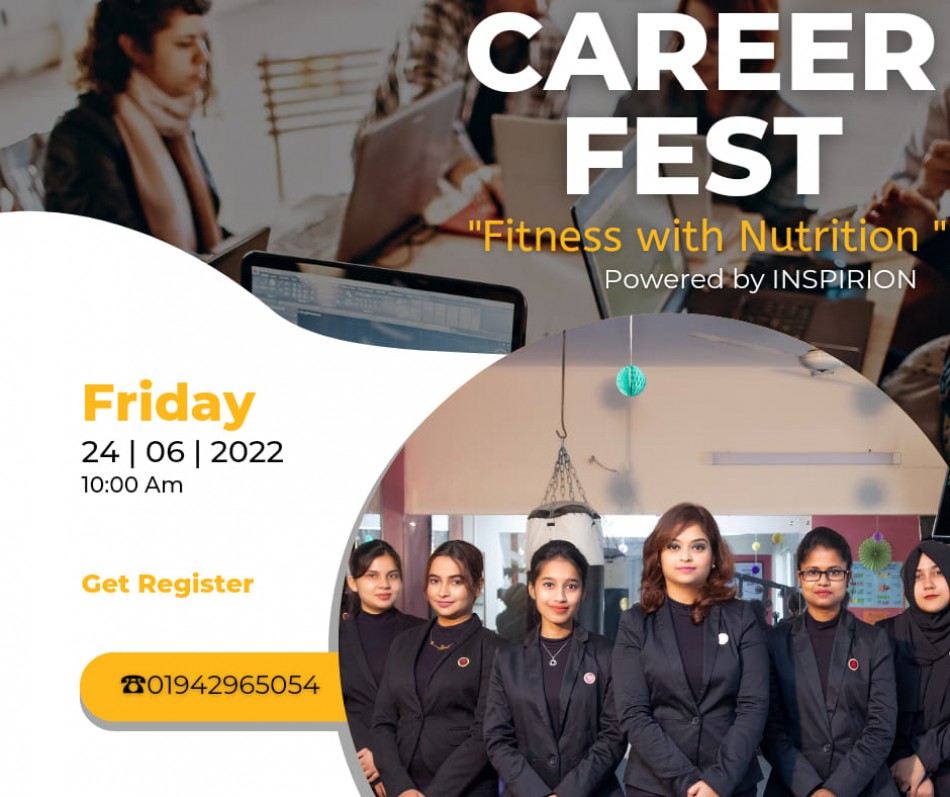 Entry Fee: 510 BDT(Students), 810 BDT (professional)
Inspirion Fitness and Diet Consultancy Centre is a nonpolitical fitness organization. Inspirion moto is "The success of women's wellness".
To spread knowledge about fitness and nutrition among women's community & provide training to the student of Food & Nutrition. It has started Its journey in January 2020 in Dhaka Division.


We are glad to announce that another event
Career Fest-"Fitness with Nutrition" 2022.

This Career Fest can create Opportunities
to:-
1. The right pathway to ensure your career in the fitness industry.
2. To get knowledge about the interrelationship between fitness and nutrition.
3. To get adequate guidelines about Health education, public health, and NGO job from experts in these sectors.
4. Create your own business field in this sector.
5. How to develop your skill and get self-employment.
6.To create another way to establish fitness nutrition on the clinical sites also.
7. How can you grow yourself from student life by doing these types of practices.
As registration for the program, a Google form must be filled in.
1. Registration fee:-
Students-510/-
professional -810/-
2. You can pay by using bKash or cash
Payment at our office.
3. Bkash no - 01990523218 (personal)
Office address: house no #22
Dhanmondi road #1
4. Use Reference (Who referred you)
5. Please note the BKash number & Trx id of your online payment.
Registration Deadline: 15 June 2022
Each participant will get a registration confirmation text one week before the event.
1. Schedule:- 24 June 2022
2. Time:10 am - 3 pm
3. Venue: KIB Convention Hall,
khamarbari,Farmgate
1. Participation Certificate
2. Accessories
3. Lunch